Since July 2019, with the

«UNA ROSA NEL DESERTO» project

, our Foundation has supported the Soleterre Foundation's program for the management of the

Rainbow Family Home

(RFH) in

Gulu

,

Uganda

, in coordination with the

St. Mary Lacor Hospital

.
The RFH is a
home for children with cancer
and their families, who are offered
free room and board
, transport, as well as
psychological support services
for children and family members. In addition,
school activities
are provided along with recreational and training activities.
In short, a space as peaceful as possible in which to live during treatment for young patients and their families from all over the region north of the Victoria Nile.
The "A Rose In The Desert" project has had an important impact on the operational capabilities of RFH, resulting in a significant improvement in the quality and quantity of the services offered.
The number of
children hosted
rose from 95 in 2018 to
219 in 2021,
and the first half of 2022 alone 183 children and families has already been hosted.
In the first three years (July 2019 – June 2022) all the indicators of early diagnosis and adherence to treatment improved significantly. In 2020 training began for the general practitioners in community health centers. Since then cancer diagnoses have significantly increased: from 51 new cases diagnosed in 2018 to 121 in 2021 (+ 137%). Data from the first six months of 2022 (81 new cases) suggest that the upward trend will continue.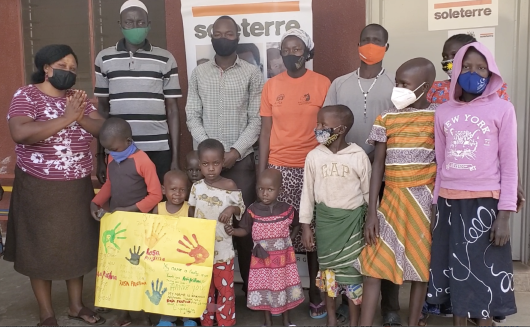 Data from St. Mary's Hospital Lacor show that the mortality rate from cancer in children in 2018 was 60%. Also thanks to the improvement in the quality of care, in 2021 – with the same measurement criteria – the mortality rate dropped to 30%, though this still lags behind the first world.
The dropout rate from care fell from 7.8% in 2018 to 0% in 2021 and in the first half of 2022. The consequent improvement in adherence to treatment contributed to a significant increase in the survival and recovery rate.
The project also has an Emergency Fund to help families most in need for transport in such a vast area, to and from St. Mary Lacor Hospital and, if necessary, the Uganda Cancer Institute of Kampala. The fund also supports families while they are mourning for children who have not survived.
Rosa Prístina and Soleterre, given the high level of effectiveness of the work carried out together, decided to continue the project for the three-year period July 2022 – June 2025.